Paragliding tandem flights
in Miercurea Ciuc and Harghita county area
Sumuleu Ciuc
Main tandem flying place, very close to Miercurea Ciuc.
Altitude gain flight, duration: 10 minutes.
Izvoru Muresului
Picturesque location near Gheorgheni.
Altitude gain flight, duration: 10 minutes
Varful Viscol
Highest Peak of the Ciucului Mountains.
Gliding flight with 450 m differential height
Sansimion 2
Picturesque location in Harghita Mountains, off-road adventure (additional cost) or hike to the take-off (approx.1h). Gliding flight with 550 m differential height.
Useful information
✓ The choosing of the flying place will be 1 day before the reservation, depending on the weather forecast (wind speed and direction).
✓ We recommend wind stopper clothing ( for -10 degrees Celsis lower than the forecasted ground temperature) and sport shoes (preferable high boots). The relative air speed of the glider is approx. 40 km/h and if the relative ground altitude is above 200 m, the temperature drops significantly and the cold sensation is accentuated.
✓ For Sumuleu-Ciuc and the Izvorul Muresului sites, where altitude gain is necessary, it might be possible to wait 1 hour or more for the appropriate flying conditions. This is why, we recommend energy supplies (to bring water and snacks on takeoff).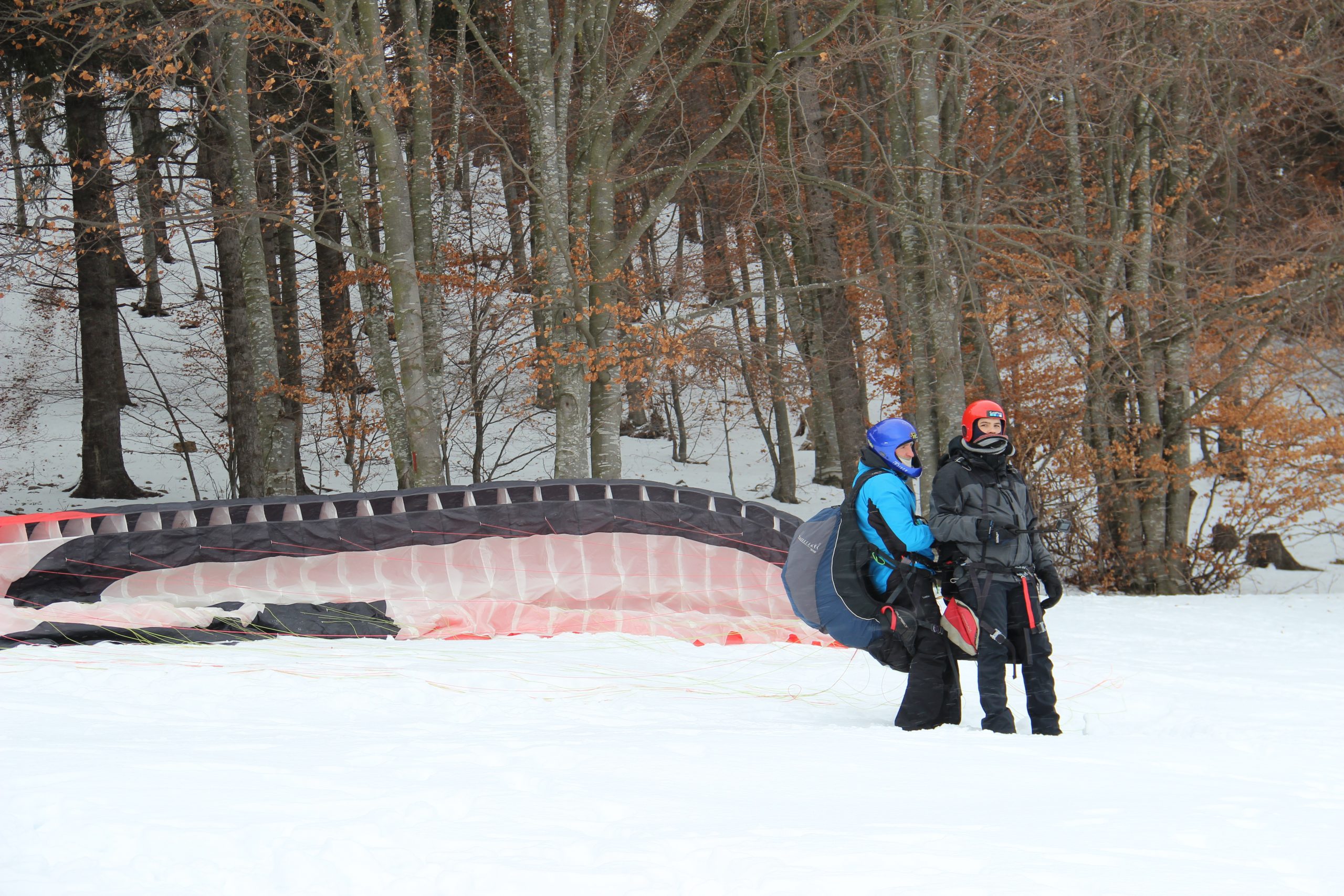 Prices
The basic flight price is 250 Lei.
This price covers the duration/height difference mentioned at "Flying places" and  stabilized gopro filming.
Important:
we cannot always ensure the ascent by off-road car at the Varful Viscol and Sansimion 2 take-off points, it depends on the availability of the owners of the off-road vehicles.
Only cash payments accepted, after the flight.
Extra option cross country flight (XC)
If the weather conditions allow and you wish to do a cross country flight (XC), the extra price is:
10 RON/10 km, if the recovery (the return journey to take-off) is provided by the customer with the customer's car or if a triangle is successfully completed (if we land at the place of take-off)
20 RON/10 km if the recovery is done by our car or by train.